Harvey Lexus of Grand Rapids Events
2020 Harvey Lexus Champions For Charity – Online Auction

2020 has been described as an unprecedented year and we agree! Many of our usual events were postponed or cancelled due to COVID-19. This included, for the first time ever, our Harvey Lexus Champions For Charity West Side Golf outing.
Thanks to the partnership and work between Lexus Champions For Charity and the BIA of MI golf committee, we were able to offer the Pebble Beach golf package via an online auction.
A very big thank you to our generous winning bidder for helping us support the Brain Injury Association of Michigan! Over $7,000 was raised to support the important work they do in our state.
ALSO – Congratulations to area residents Kris Skogen and Brian Hansen who garnered the Brain Injury Association of Michigan a check for $17,500 after they took home first-place in the Net Division of the 2019 Lexus Champions for Charity National Championship tournament at Pebble Beach Resorts in California!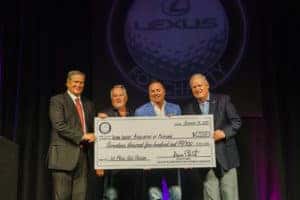 Photo caption: Left to right: Professional golfer Peter Jacobson, Brian Hansen, Kris Skogan and Johnny Miller, professional golfer. Photo by John Gililloly